Farming Modlet
Hey all! I just put out my expansion to my modlet that so many of you loved
Thankyou all for the amazing support on these projects. It's been exciting to be able to discover new and awesome things, and share them all with you! Well, this past week I worked on this expansion. Though the content isn't a lot, there is some heavy work behind it
I fully animated the Cows, Pigs, and Chickens to move around their "area". Hopefully this will add plenty of life to your farmlands!
I would also like to thank Stasis personally, the creator of Farmlife Mod. When we both got started on our projects, we had no idea the other was existing. If only we met a month before
But, we both spent a lot of time, and rewrote a good portion of our modlets, so that they may work together
They do not "use" each other, but the naming and icon pathing has all been readjusted to allow our amazing fans to play both projects, and enjoy them to their fullest!
Hope you all enjoy!
__________________________________________________ ______________________
Expansion 1.1:
Change log:
Animals now fully animated and move around in small animation patterns
Added:
Lettuce Crops
New food items (Chips, Cupcake, Donut, Tonic, Beefcake Workout Supplement, Soup, Canned Food, Pancakes)
2 new Storage Containers (Barrel, and Wine Crate)
Updated block bounds on animals (cows=7x7, pigs=5x5, chickens=3x3)
Fixed:
Fixed grapes being endless farming when first stage growth is damaged
Fixed XUi server side issues
Fixed name pathing to improve compatibility with FarmLife Mod (Thankyou Stasis!)
Fixed food and water displays
Known Bugs:
Animals sync to same animation loop when loading world chunk/logging in. They're training for synchronized swimming in the Olympics, leave them alone.
Other mods may have conflicting name pathing. Might cause some assets to not appear/fail to load. Please contact w/name of mods running and which item is not working. I can not help if you provide vague answers or are running every single mod out there for download. Be selective with mods. Don't just spam click them all and expect it to work.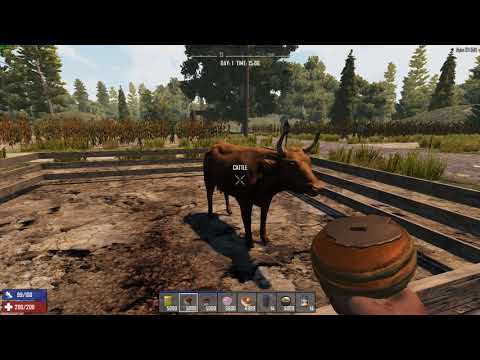 Download Links:
NEXUS
GITHUB
Im an idiot and put those in wrong. My apologies! Fixed now.
Stasis's amazing piece of work, Farmlife, is now fully compatible!: Hih
https://7daystodie.com/forums/showth...74-FarmLifeMod