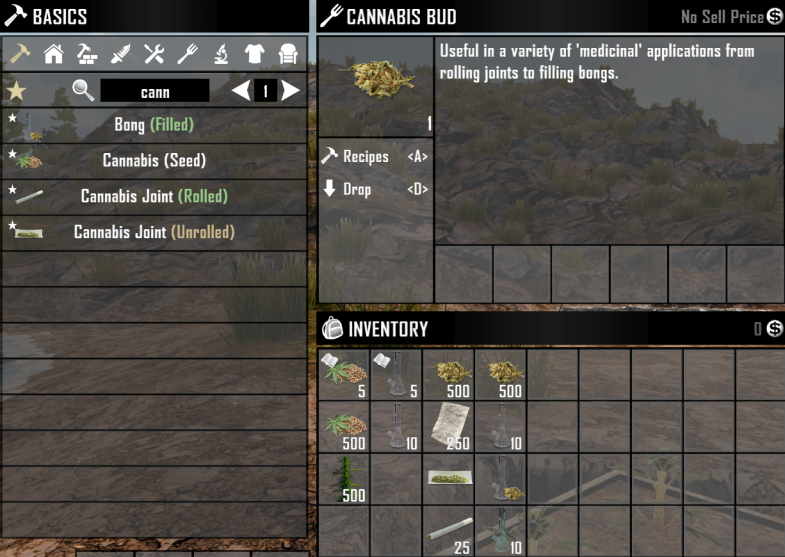 INTRO & CREDIT

:

Everyone needs a little downtime, right? Find, grow, and smoke your own cannabis. Sure, it'll make you a little hungry, but you sure take some punishment when you're high. This modlet adds seeds, plants, schematics, progression, buffs, and usable items.

DOWNLOAD & INSTALL

:

Alpha 18:

MeanCloud__Cannabis_v1.01.zip

(version 1.01, 2020-03-20)

Download and extract this modlet to your 7 Days to Die

Mods

folder.

For Steam users, that's

<steamdir>\steamapps\common\7 Days To Die\Mods

(create '

Mods

' if it doesn't exist).

USING THIS MOD

:

To get started, start looting around until you find some cannabis seeds or (cannabis buds and the perk or recipe to craft seeds from it). Plant the seeds as you would any other and wait for your cannabis to grow.
Cannabis can be rolled into joints or smoked in bongs that you can craft or find.

Smoking cannabis joints will give you damage protection and a bit of fortitude for a few minutes. It'll also heal you (like weak painkillers), but you'll lose some perception and a bit of max stamina (got the munchies?) in exchange. The perception, fortitude, and damage protection effects are temporary. Smoking cannabis in a bong will give you a more potent effect.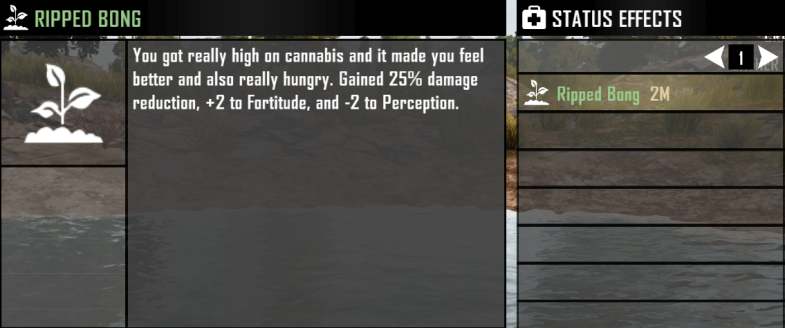 NOTE FOR MULTIPLAYER

:

The current version of Alpha 18 does

not

push localization data to users. If you are playing multiplayer (either hosting or via dedicated server), each player will need to install the cannabis mod themselves to get the proper descriptions of items, buffs, perks, etc. that this mod changes.

SUPPORT ME

: PayPal Donation

if you enjoyed my work and want to encourage me to do more.

All of my modlets

for

7 Days to Die

.