7 days to die mod editor is a tool to manipulate xml
and This tool directly changes the program using SDX, and supports various changes beyond xml.
Since it obtains information from xml and manipulates it, it is rare that you can not compete with other Mod and you can adjust it to your favorite balance with various operations. Originally it has dealt with various things in order to make the game difficult, but it became possible to make the game easier according to the operation.
Please see
about 7 days to die mod editor
and
option
for details.
download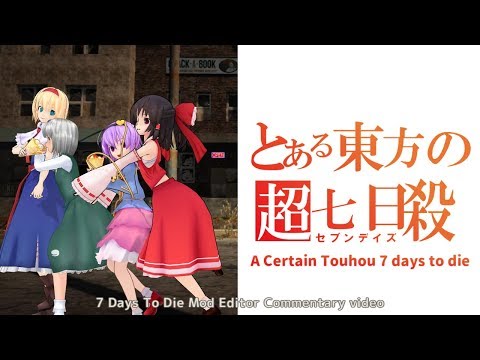 If the wellness falls below 20, the game is over.
There is a penalty for lowering wellness if you do not touch the candles that appear in gore of the boss zombies that appear in feral horde.
The penalty gets worse every seven days and the amount of wellness reduction will double and eventually the game will over.
There is no increase in the loot quality of items by player level, nor is there any restriction on acquiring skills by player level.
If you do not assign the points that can be gained by level up, the fact that the player level goes up does not affect the game.
Unlike normal games, zombies that appear outside of prefabs also become more powerful as the game stage is applied and the stage goes up.
In addition, wild animals will become zombies as the stage progresses, and it will be difficult to obtain raw meat, so as the stage progresses, hunting life will be difficult.
Hubs usually have stronger zombies than prefabs and wildernesses. The larger the hub, the stronger it is.
Since town and city have zombie dogs and fat zombie cop in the open air, it is very difficult to enter town and city from the early stage.
Since the early stages usually require recipe books that can be made without recipe books, the strategy changes depending on the recipe books obtained.
Workbench, chemistrystation, forge, cementmixer, etc. can be dismantled and brought back with wrench but they are more likely to be broken.
Fertilizer is essential in agriculture, and it consumes fertilizer when it is harvested, so the mass production system by agriculture can not be done.
As we have to defeat the boss zombies in feral horde, we need considerable strategies for collecting and preparing for 7 days.
Because there are environmental changes due to the strength of zombies and animal reduction at the stage up, it will not be safe if you take the same strategy every time.
It will be difficult to survive unless the character skills and recipe books are enhanced as the alive days increase.
The above can be changed by the tool setting.